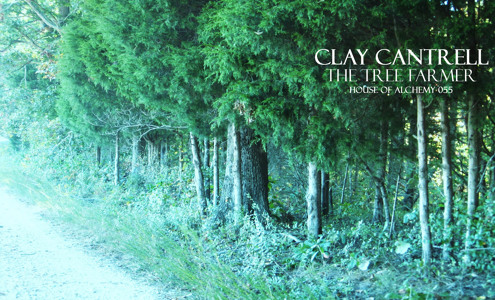 Clay Cantrell's cassette The Tree Farmer is a unique blend of atmospheric folk and blues-tinged singer-songwriter compositions. While Clay has a relatively mysterious presence on the internet, Buffalo's House of Alchemy label has shown him some deserved attention by putting out this gem of a cassette. With labelmates like Obscurer and Mama Baer, Cantrell is an odd fit for such a label renowned for specializing in stranger sounds. Cantrell's ghostly ambiance, however, does share certain similarities with other artists that have been released by HOA.
The songs on the Memphis native's cassette (none of which come titled) show an impressive musical range; some songs are fairly straight-forward folk rock (suggestive of The Decemberists or The National), others songs, like "Late Aster Girl"–which was posted to Soundcloud by House of Alchemy–show more ambient, heavy blues sections reminiscent of a melancholy Embryonic Journey with a little more of a metal influence. Another song "Cotton Wood," which is posted to Cantrell's Soundcloud page, is a classic ballad overlain with haunting vocals and a wonderfully resonant piano.
In general, the vocals are not so strong on this release, but they don't necessarily have to be. On the folkier songs the voice is more prominent, while the mellower, experimental tracks feature odd melodies, hypnotic harmonies, and heavily distorted guitar. Although Cantrell is definitely a far better guitarist than a vocalist, his vocals work well with the music (which is true of a lot of artists with the same vocal style). It's all in good taste; it symbolizes a movement. In music there needs to be a positive message that individuality and sincerity to the self are the most important things you need, and when artists bring off-key vocals to the table it brings a new dimension to their music, as numerous artists have shown over the past decade. Vocal qualities aside, Cantrell shines as a lyricist, which makes sense since he also writes poetry.
After a long day, this album and a beer would do perfectly. The calming tones of Cantrell's Memphis-tinged voice combined with the completely mesmerizing distortion and reverb help to achieve a dreamlike effect when listening.
________________________________________________________
Review by Chris Samide